Y'know, it's really remarkable how much you can get done when your brain is not actively sabotaging you. I'll probably blog about that sometime.
For now, count your notches and set your watches, cuz
Medicine for the Dead
is coming out in less than two months!
(I know, right? Holy mackerel.)
So here's what's happening. Are you ready? Are you stoked?
Well, first the news: the book has gone to print, and launches are booked! The US launch will be
Saturday, March 28th at 3:00PM at the Hurst Barnes & Noble
(same one as last time), and the UK launch will be at
Dysprosium in London
, at some point during Easter weekend - will keep you posted on that one. In both cases, there will be goodies and prizes and books, and a grand time to be had by all!
"Sure,"
you say,
"But what can I do between now and then?"
So glad you asked!
1. Put it on your radar!
That can mean
pre-ordering
the
book
, requesting it from your local library, and/or
adding it to your Goodreads "want to read" list
. Basically, everything you do to tell the world "hey, I want this" makes it that much more of a hot commodity, and makes YOU more of my actual favorite person. (And if you have Netgalley privileges,
feel free to skip the queue
.)
2. Catch up on the story!
If you haven't read
One Night in Sixes
, you're gonna want to do that first - and here to help you is a handy-dandy Goodreads giveaway. Go! Click! Win!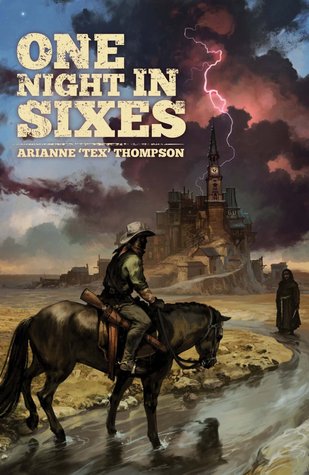 Enter to win
But it's not all about what you can do for me, natch.
Let me tell you what I can do for you.
See, I've learned a thing or two from last year. This time, I'm not just out to drop a book on the world. THIS time, I'm opening up a whole toy-store of cool stuff: sneak previews, deleted scenes, easter eggs, giveaways, hopefully some neat-o merch, and more that I can't even tell you about yet! Some of it will go live here on the blog, but as everyone knows: if you wanna get into the club, you gotta be on the list.
So do yourself a favor and
sign up for the mailing list
! I'll aim to send it out about once a month - a little more often here during launch season. Here's a free sample to entice you:
What is that, and what does it have to do with anything? Sign up and find out!
(To be clear: that link will sign you up for the readers edition - all things fun and fictional about Sixes, Medicine for the Dead, and future works. For the writers newsletter - everything about writing classes, resources, and events - click the black "For Writers!" button on the sidebar above.)
Oh! And in the meantime, come find me this weekend at ConDFW!
Full schedule is below the cut
. It's been
a long, cold winter
about six weeks of below-70 temperatures, and I'm jazzed to get back out into the world and see some fresh, fun faces!
Friday, 6pm:
Klingon to Dothraki (How to Do Constructed Languages Correctly)
Panelists: Tex Thompson (M), K. Hutson, KM Tolan, Rie Sheridan Rose, Stina Leicht
If you put together a functional language, you create a world. There are intricacies to every intonation, inflections on syllables, and physicality to how each word or concept is shaped in the mouth that utters it. But how does an author create this from scratch? Our resident linguists help unravel the mystery.
Saturday, 2pm:
Autographs
: Tex Thompson, JD Horn, K Hutson
Saturday, 3pm:
Reading
: Tex Thompson, Russ Linton
Sunday, 1pm:
Escape from the Slush Pile
Panelists: Chris Donahue (M), Tex Thompson, Patrice Sarath, Michelle Muenzler, Julia S. Mandala, Katherine Turski
The perennial panel returns as we tantalize people with mistakes and errors you should try to avoid. Beware: someday you may end up here if you do not learn from your mistakes. Come and learn from our editors what to avoid so you don't end up on – the slush pile.
Sunday, 3pm:
Sm'tkRoyani and Bob: the Do's and Don'ts of Naming
Panelists: Tex Thompson (M), Russ Linton, Michelle Muenzler, Shanna Swendson, Paul Black
You have plenty of viable characters in your novel du jour. But you're stuck on a name for the various characters – if you name the bartender the wrong name, he gets an instant stereotype. If you name the bartender a confusing name, he gets...well, who knows? Probably irritated at his creator? Our panelists talk about how to name characters in ways that help the story. All Hail Bob!